Business Strategy
First-corporation has formulated a business strategy for achieving the targets outlined in Innovation 2018, its new three-year medium-term management plan that began in the fiscal year ended May 2019.
Medium-term management plan: (1) Numerical targets
In its first year, the plan is restrained and conservative. However, in the fiscal year ending May 31, 2021, three years from now, First-corporation is striving to enhance business performance and targeting net sales of ¥34.9 billion, ordinary income of ¥3.1 billion and an order backlog of ¥30.5 billion.
To enhance business performance, it is essential to expand construction capacity and focus on acquiring human resources. First-corporation expects results to be achieved steadily in the senior condominium business, the renovation business and Kyushu branch, and that these businesses will contribute to growth.
Order receipts/Order backlog at year end
(millions of yen)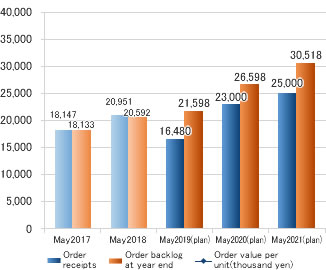 Ner sales/Ordinary income
(millions of yen)(millions of yen)